India Tour By Heart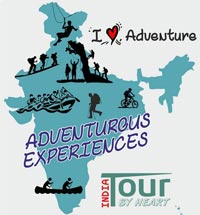 Adventure Tourism
With the globalization & growth in materialistic dependence by coming generation, there is urgent need rather compulsion to participative increase in adventure sports of various kinds which is combination of alternative lifestyle & action by body. Adventure sports have unique nature, which cannot be seen in other activities. These activities may provide more result for it's developments along with other future advancement.
For attempting & conquering the activity, there is no such thing as being over careful when it comes to the body so we have to be physically fit & compatible for adventure to handle the circumstances at top of hill or under the water. Understanding of the activity pre=hand prepare for safe action. Exercise & Yoga are best thing to use for accumulation of body. Knowledge of equipments needed for activities is secondary necessity to get prepared. Beyond that weather & atmosphere needs double check before any such activity. These have impact on chances of injuries. Rock Climbing in rain & diving in lightning storms can be fatal. Rather, grouping may be a intelligent decision to avoid such acts.
Another major support can be acquired by food supplements by special diets. There are many supplements to help in getting mass and strength. Milk have an increase in muscle protein balance as it contains many nutrients, electrolytes & other components that help in performance.
We are supporting adventure tourism at various places in Himalaya to Sea as per requirement & interest of our clients i.e. Trekker's paradises, Water sports, traditional activities at rural environment, river sporting, rock climbing, jungle safaris etc.